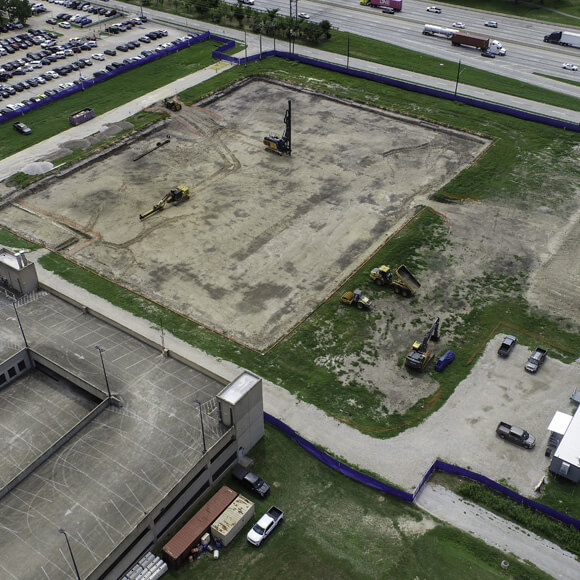 LBJ Hospital South Parking Garage
Houston, Texas
Geopier Rammed Aggregate Pier® technology supports Heavy Parking Garage.
Owner: Harris Health System
Geotechnical Engineer: Terracon
Structural Engineer: Walter P. Moore
General Contractor: Telepsen
Client's Challenge
The LBJ public hospital is the state's first and busiest verified Level III trauma center, with more than 80,000 emergency patient visits each year. The project is developed to expand parking volume by adding a second, 7-level, garage to the campus.
Subsurface Conditions
Medium to stiff sandy lean clay to fat clay (with calcareous nodules and sand pockets) to about 13 feet depth, underlain by a 10-foot-thick layer of loose to dense sand (SM, SC) followed by a very stiff to very hard clay to the maximum explored depth, 80 feet below existing grade.
Geopier® Solution
The structural engineering package included a full design for deep foundations with a Rammed Aggregate Pier® (RAP) alternative. The successful general contractor selected the RAP alternative as the superior construction choice. Only Geopier could offer a RAP system to limit total settlement to 1" for loads approaching 3,000k and exceeding 50klf.