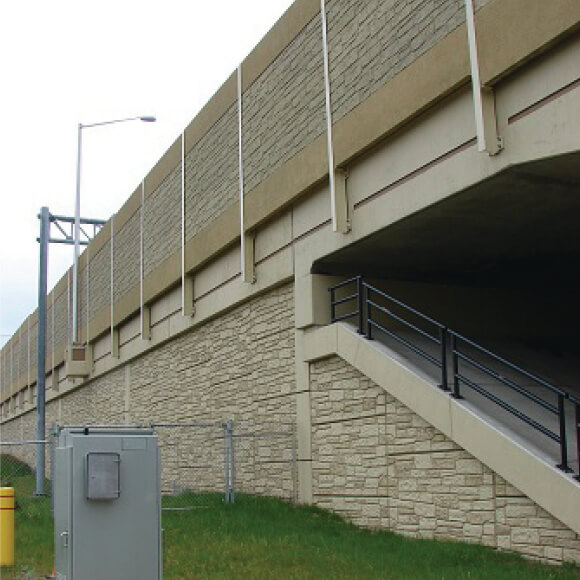 Mitchell Interchange MSE Walls & Embankments
Milwaukee, WI
The Geopier GP3® system provided cost savings over lightweight fill and enabled the contractor to expedite the erection schedule for MSE walls and accompanying embankments at 10 locations throughout the interchange
Owner: WisDOT
General Contractor: Walsh Construction
Geotechnical Engineer: Milwaukee Transportation Partners
Structural Engineer: Milwaukee Transportation Partners
Client's Challenge
This project included the support of an MSE walls and accompanying embankments at 10 wall locations at the Mitchell Interchange in Milwaukee, Wisconsin.
Subsurface Conditions
Typical wall locations consisted of 10 to 20 feet of mixed sand and clay fill, with mixed organics and rubble over stiff native clay. At one wall location, Geopier® installation discovered very soft, highly organic soils to depths of 30 feet. When the spoils from drilling were examined, the wall site was found to be on 6 feet of clay fill overlying 24 feet of Weight of Hammer peat and organic clay over stiff native clay.
Geopier® Solution
The Geopier GP3® system provided cost savings over lightweight fill and enabled the contractor to expedite the erection schedule for the walls. Conventional wall construction and backfill with engineered fill was used in lieu of LFCF. The drill and fill process enabled the installer to identify a change in soil conditions by visual confirmation of the drill spoils. 1,520 - 24" and 30" GP3® elements were installed in 38 days. The Rammed Aggregate Pier® system was utilized to provide shear reinforcement for global stability and bearing capacity, as well as settlement control.