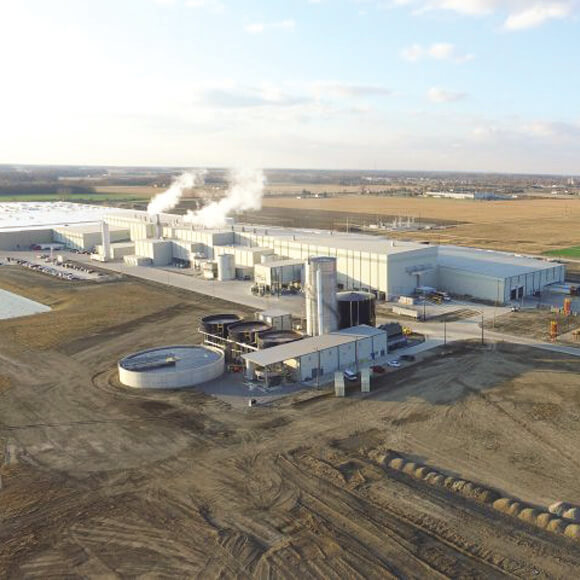 Pratt Paper Fiber Warehouse and Clarifier Tank
Henderson, Kentucky
Geopier Rammed Aggregate Pier® solutions support 450,000 square foot paper mill in Henderson, Kentucky.
Owner: Pratt Industries
Geotechnical Engineer: S&ME
Structural Engineer: Aillet, Fenner, Jolly, and McClelland Inc.
General Contractor: Wieland
Description
Pratt Industries selected Henderson, Kentucky to construct a new 450,000 square foot paper mill which will produce 100 percent recycled products. The mill will produce an estimated 1,500 tons of recycled paper per day, avoiding the harvesting of more than 25,000 trees daily. The mill will supply the corrugating plant with feedstock to produce corrugated sheet and boxes, such as pizza boxes and packaging for big box stores and distribution companies.
Subsurface Conditions
The subsurface conditions consisted of alluvial deposits with interbedded layers of clay, silts, sand and gravel. The upper soil layers were predominantly fine grained silts and clays, with increasing sand contents with depth. Highly to moderately weathered shale and limestone bedrock was encountered at depths approximately 60 ft below grade.
Geopier® Solution
Geopier and Peterson Contactors, Inc. provided a comprehensive design-build solution to support the fiber warehouse and clarifier tank structures. Without ground improvement, the Geotechnical Engineer anticipated excessive settlements and the project team sought out alternative solutions to the more costly and time consuming auger cast in place piles used on other portions of the project. Our design-build solution included over 1,300 Geopier X1® elements to improve the bearing capacity and reduce settlements to 1 inch or less. Geopier supported column loads measuring up to 250 kips, wall loads ranging from 4-8 klf, and slab loads of 750 to 1,500 psf. Project costs and schedule were reduced by approximately 50% when compared to the auger cast pile deep foundations.