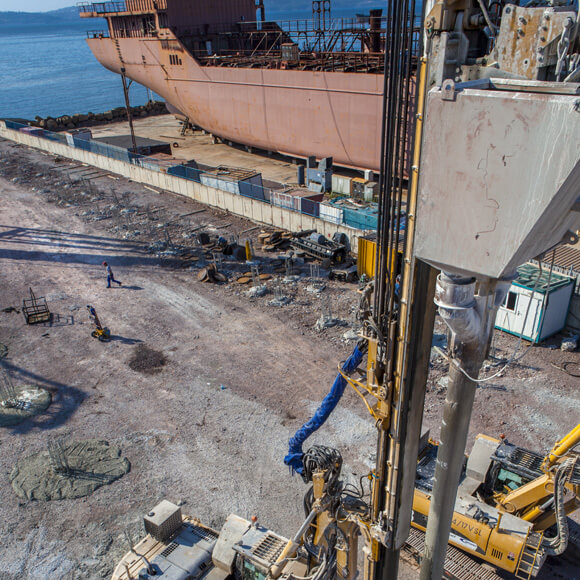 Sanmar Shipyard
Yalova, Turkey
The Geopier Impact® System Supports Sanmar Shipyard in Turkey.
Owner : Sanmar Shipyard, Turkey
Project : MAG Engineering
Geopier Designer and Installer : Sentez
Client's Challenge
The settlement performance and seismic soil liquefaction response to underlying soils were assessed for Sanmar Shipyard Project. The distributed load of 50 kPa and 100 kPa were effected on the field concretes except concentrated loading areas such as building foundations and crane runways. The ground improvement solution was required to resist a peak ground acceleration of 0,4g.
Subsurface Conditions
The soil investigations indicate the presence of an upper layer consisting of fill (gravelly, sandy) with a thickness of 2m – 5m. The fill is underlain by a sandy (5 m thick) layer. This layer was scattered by soft to medium stiff clay layer with a thickness of 3m. Under this layer, all results indicate the existence of a clay layer of soft to very stiff (scattered sandy layer) to the depth of 30m – 38m. This layer is underlain by dense sandy layer. Groundwater table is reported to be at ground surface.
Geopier® Solution
A total of 46.540 meters Geopier Impact® elements were installed with a pattern of 1,85 meters by 1,85 meters on center and reaching to 10m and 15m lengths beneath the distributed load of 50 kPa and 100 kPa, respectively, which are considered as the most feasible solution for this project.