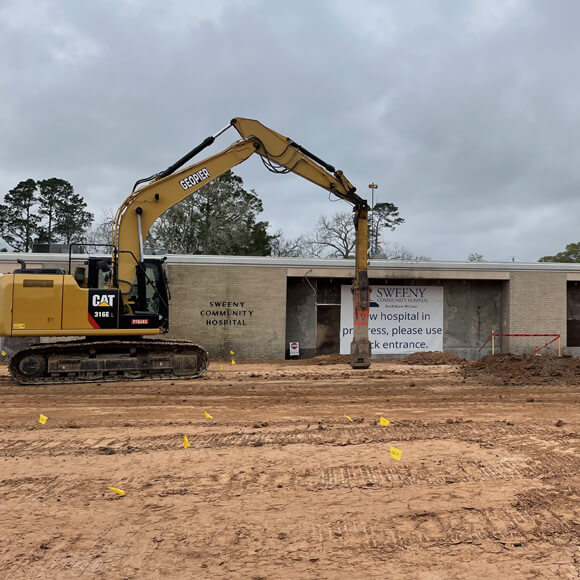 Sweeny Community Hospital
Sweeny, Texas
Geopier Rammed Aggregate Pier® solutions support new hospital.
Owner: Sweeny Hospital District
Geotechnical Engineer: Intertek PSI
Structural Engineer: Matrix Structural Engineers
General Contractor: Tellepsen Builders
Client's Challenge
The nearly 60 year old community hospital will be replaced with the new facility to increase clinical capabilities and bring modern healthcare to West of the Brazos Community. The new structures are built on the existing property with the current hospital operational. The original hospital will be demolished upon completion. The development team collaborated with partners considering multiple location options and several designs progressed to advanced stages. These include the number of levels and construction materials.
Subsurface Conditions
About 2 to 4 ft of medium stiff to stiff lean clay, overlying medium stiff to stiff fat clay down to depths of about 68 ft (with one up to 5 ft layer of clayey sand), then overlying soft to stiff lean clay to the maximum termination of 90 ft. Groundwater was measured at depths of about 13 ft during drilling.
Geopier® Solution
The project team engaged Geopier from the beginning of the development. After abandoning a previous site located away from the current property, the geotechnical engineer, structural engineer and general contractor knew that ground improvement would be needed to build the hospital on the existing property. The Geopier GP3® Rammed Aggregate Pier® (design provided over 3 times the allowable bearing capacity of the in-situ soil. This greatly improved the economics of constructing shallow foundations to accommodate column loads of 300 kips.