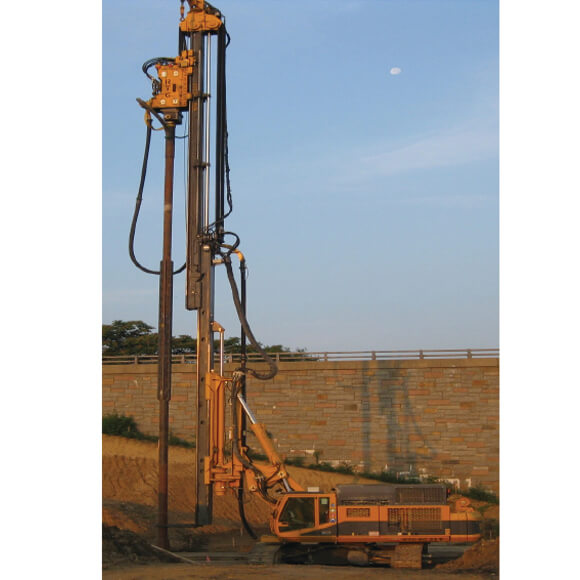 Replacement of 11th Street SE Bridges
Washington, D.C.
Geopier GeoConcrete® Columns provided cost effective support for 40-foot tall MSE walls while working within tight site and time constraints
Owner: HNTB
General Contractor: Skanska / Facchina Joint Venture
Geotechnical Engineer: DDOT
Structural Engineer: Johnson, Miriman & Thompson, Inc.
Client's Challenge
Grade changes to facilitate replacement of the 11th Street SE bridges over the Anacostia River and interchange improvements in Washington, D.C. required construction of Mechanically Stabilized Earth (MSE) walls up to 40 feet in height. Maximum bearing pressures of the MSE walls were 7,000 pounds per square foot (psf).
Subsurface Conditions
Soil conditions varied considerably across the project site. Generally, silty and clayey sand (SM/SC) fill extended to depths of 5 of 15 feet below grade followed by layers of loose alluvial silty and clayey sand, and very soft silt and clay with varying amounts of organics. The alluvial soils ranged in thickness from 20 to 40 feet. Moisture content values of the cohesive soils ranged from 34 to 114 percent. The alluvial soils were underlain by Terrace deposits consisting of loose to very dense sand, gravel, and stiff to hard clay (CL). Groundwater level was influenced by the Anacostia River and was within 3 to 12 feet below grade.
Geopier® Solution
The project team required a cost-effective foundation solution to support the tall MSE walls and meet the 3 inch settlement criteria. The solution also needed to perform within an accelerated construction schedule and be installed within an urban site with constrained access and varying subsurface conditions.