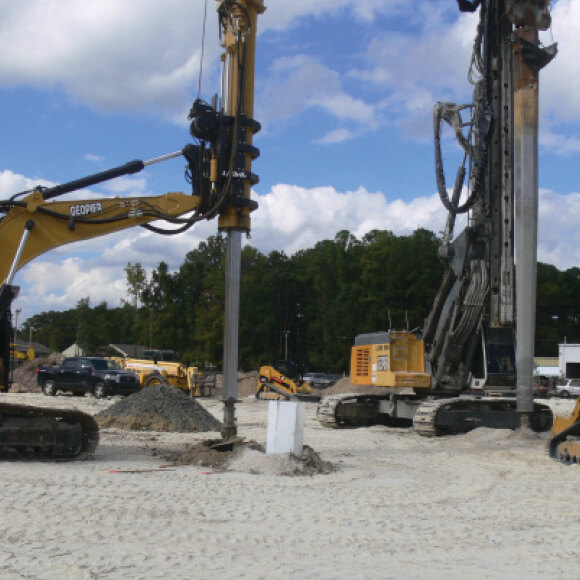 CarMax Store
Savannah, Georgia
The Geopier Armorpact® system provided an efficient alternative to surcharging
Owner: CarMax
General Contractor: T.D. Farrell Construction, Inc.
Geotechnical Engineer: Professional Service Industries, Inc.
Structural Engineer: Haines Gipson & Associates, Inc.
Client's Challenge
Construction of a 24,000 square foot auto showcase consisted of column loads of 270 kips, and wall loads of 4 kips per linear foot.
Subsurface Conditions
Loose to medium dense silty to clayey sand and medium stiff to stiff fat clay in the upper 10 feet. This was overlying very soft to soft fat clay extending to depths of 18 to 20 feet, over loose to medium dense silty sand to the maximum depth of exploration, 40 feet. Groundwater was encountered about 10 feet below grade, prior to fill placement.
Geopier® Solution
The geotechnical engineer recommended surcharging the site, to consolidate the soft clay prior to the construction of the structure. As an alternative, it was recommended that the proposed structure be supported on shallow foundations, in conjunction with a Geopier Rammed Aggregate Pier™ system. Deep temporary casing would likely have been required with a traditional "drill-and-replace" method of Geopier® installation, in order to fully penetrate the soft clay layer. Armorpact® piers were selected as a means to eliminate the need for temporary casing, resulting in an expedited construction schedule and and adding confinement in the soft clay zone. The upper portion of the pier was pre-drilled, to help accelerate installation through the structural fill and upper soil crust. The polymer confining sleeves penetrated the soft clay layer and were seated in the underlying sand layer.